Ramallah – On September 7, MIFTAH completed several planning sessions attended by members of the "Leaders of Tomorrow" Team and the Palestinian Political and Social Active Youth Network, which were aimed at reviewing and evaluating interventions during 2019 and continuing these interventions throughout the rest of the year and 2020 as part of MIFTAH's "Youth Empowerment Program".
The contributions from young leaders regarding interventions and mechanisms of implementation varied with the aim of achieving the aspired goals. The interventions focused on a number of activities, which help form public opinion on the issues and values the Youth Network seeks to reinforce among Palestinian youths. The most important of these values are democracy and pluralism within the youth generation, through targeting places such as universities and youth institutions. It was also aimed at employing social media to reach the target groups.
The participants also discussed efforts to reactivate the General Union of Palestine Students [GUPS], focusing on the importance of shifting the national dialogue from the local to the regional level. This would allow Palestinian students in the diaspora to participate, given that GUPS is one of the most important unifying platforms for Palestinian youth everywhere. The participants stressed that the national dialogue in this regard must include the public's access to information vis-à-vis the outcomes of these discussions.
The participants also reiterated the importance of involvement by Palestinian youth in developing the Palestinian narrative, which in turn would promote the integration of Palestinian youth in the national narrative, which is not limited to the history of the Palestinian cause. Rather, it entails the inclusion of personal stories in everyday reality, which gives the true picture of the conditions under which Palestinians live, thus countering the alleged narratives of the [Israeli] occupation being promoted on global platforms.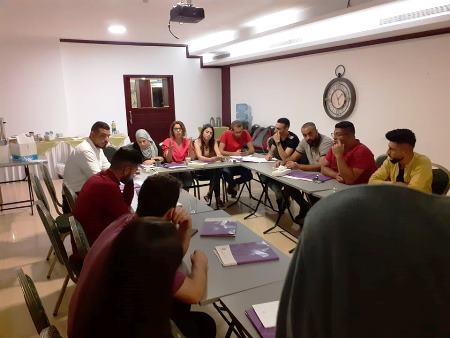 Furthermore, the participants addressed the importance of reviving the role of youth in the struggle for economic and social rights through practical implementation of the Youth Network document, which focuses on the importance of the role of youth in exercising their monitoring role. They developed interventions pertaining to government policies to address poverty and unemployment rates and the role of funds and loan institutions to ease some of the pressure.
MIFTAH project coordinator Hassan Mahareeq said the sessions are supported by the Arab-Palestinian Investment Company [APIC], adding that they fall within MIFTAH's efforts to encourage participatory action in the interventions of the Youth Empowerment Program. He said this reflects the participation of youth leaders in building effective interventions that allow for active political participation among youth and which also spread a culture of democracy and good governance towards impacting public policies that respond to all social sectors, particularly Palestinian youth.