Ramallah – 17/11/2020 – MIFTAH recently launched a series of awareness sessions in the four districts of Jenin, Qalqilya, Tulkarem and Tubas, on women's political participation in the electoral system and the social concept of gender-based violence (GBV). The sessions were conducted by groups of youth activists and women who received extensive training on this subject in their respective governorates.
Sujud Al Ashqar, an activist from Azbat Al Ashqar in Qalqilya, who participated in conducting the sessions in several institutions in her district, said the meetings and the prior trainings on promoting women's rights motivated her to participate in any future elections and even run for office in her village. Ashqar urged her fellow colleagues to also actively participate in any upcoming elections, confident they could make achievements and generate change.
Fatima Atatra, from the village of Anin in the Jenin district said the sessions impacted her attitude towards running in elections. She explained that in a marginalized village such as Anin, it is difficult for women to enter the political or public sphere, but that the meetings helped her realize the needs of women there. "I was able to reach several women who want to understand their rights and duties towards society, half of which they make up and the other half, which they raise. I realized during the meetings that these women do not have the necessary information or knowledge but want to know as much as possible about political participation."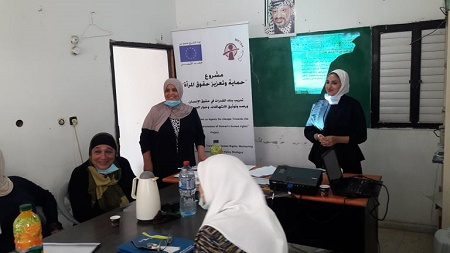 Atatra pointed to the sessions' recommendations, such as the women's request for more training on political participation and gender-based violence. They also asked for training on violence against children and women during the coronavirus pandemic and the economic and political pressures created by it.
Atatra explained how she would make use of the training and awareness sessions in her daily life, saying: "At the community level, I would be happy to offer training to women and youth in any village in my area, in my capacity as the president of the Jenin Women's Association." She said her training would target current and future local council members. "At the personal level, I will work hard through my movement Fatah, to run as the movement's candidate in general elections in order to promote women's rights. I will also do my utmost to raise the percentage of women's representation in faction lists if and when elections are held."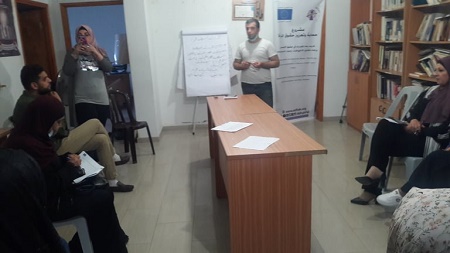 Moreover, Tamara Tibi, expressed her appreciation for the sessions, saying: "I benefited as a participant, a beneficiary and a trainer by learning concepts, terms and contacts pertaining to political participation in general and women in particular, especially regarding participation in presidential, legislative and local council elections. This also helped to hone my skills and training abilities, allowing me to conduct several awareness workshops aimed at increasing the percentage of women's participation in political life, particularly in elections. I became more involved as a young woman and trainer with other participants in various cultural, social and educational perspectives, which contributed to help me accept others. I heard success stories from other participants and, conversely, stories about the obstacles and frustrations many of the women face in public life, political participation in particular. I also gained coordination skills and learned which institutions and legal personalities were key for holding workshops in the different areas. The project also allowed me to exchange experiences, opinions and approaches with young participants, both men and women, which in turn benefited others by providing them with the necessary tools and training skills for women's political participation, in elections in particular."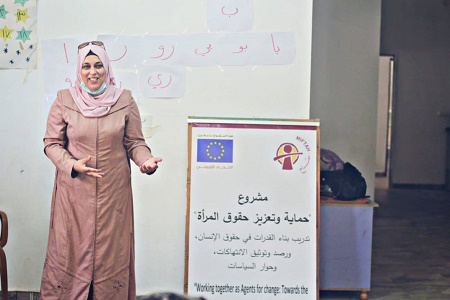 Meanwhile, Aref Jaffal, Director of Al Marsad -- Arab World Democracy and Electoral Monitor, said the idea behind the meetings was practical application of theoretical training. On the one hand, he said it enabled youth, both male and female, to play leadership roles in their locations. On the other, it is an opportunity to reach youth that are usually difficult to communicate with. Youth, because of their age, knowledge of their localities and people, are most capable of conveying the importance of political participation, he maintained. Moreover, it is apparent that the participants are more motivated now to partake in the next elections.
Hanan Said and Tamara Malouf of MIFTAH's working team, explained thus far, around 70 awareness meetings had been held, conducted by groups of youth and women activists. They also said they planned to continue with such meetings in line with MIFTAH's strategic approaches to support and empower women and youth leaders to become involved in public issues. These include political participation of women and concepts linked to gender-based violence.
The meetings are part of the EU-funded "Working together as Agents for Change: Towards the Protection and Promotion of Women's Human Rights" project, which MIFTAH implements in partnership with the Women's Center for Legal Aid and Counseling. This project seeks to raise community and voter awareness towards citizens' rights and political participation, including the importance of elections as a democratic approach in the peaceful transfer of power. It also contributes to forming social awareness in support of integrating women and youth in the management of public and political affairs. Moreover, through a series of interventions, MIFTAH aims to shed light on the challenges facing women and girls in accessing services and the violence they are subjected to including daily violations by the Israeli occupation, especially in marginalized areas within the Jenin, Tulkarem, Qalqilya and Tubas districts.