Ramallah – 6/10/2020 – As part of the OXFAM-funded R2H (Right to Health) campaign, which MIFTAH carries out in partnership with the Applied Research Institute—Jerusalem (ARIJ) and the Coalition for Accountability and Integrity (AMAN), MIFTAH distributed facemasks to a number of schools in the Ramallah district, in coordination with the Ministry of Education and under the direct supervision of the Ministry of Health. The schools were predetermined according to need and were delivered to the teaching staff, which then distributed them to their students.
MIFTAH's team was accompanied by teams from the Ministry of Health's "School health department" to oversee the delivery of the facemasks and to seize the opportunity to spread awareness about the ministry's protocol regarding the return to schools. The team reaffirmed the need to abide by public health guidelines to prevent the spread of Covid-19 in schools and to maintain continuation of the educational process, especially since many of the targeted schools had been previously shut down because of infections among their staff and students.
The campaign also included a presentation about health warnings to students, especially those with chronic illnesses, in order to better protect this sector from contracting Covid-19.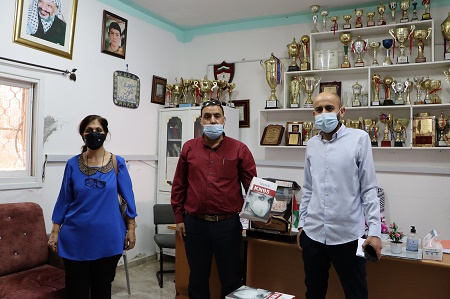 It should be noted that this intervention in the R2H campaign is a direct response to the emerging needs of the Covid-19 pandemic, which has had a huge impact on the educational process in Palestine. The new requirement of facemasks and other preventative health measures has created additional expenses for both parents and the Health Ministry. The situation requires concerted efforts between the various sectors, especially civil society institutions and the private sector with the aim of alleviating the impact of the pandemic by continuing efforts to integrate students from all social sectors in the educational process.
The campaign, which was launched at the beginning of 2019, was aimed at improving health services in marginalized areas through encouraging the Ministry of Finance to increase Health Ministry allocations so it could develop its services in these areas. A report prepared by the partner institutions in the campaign pointed indicated that only 4% of medical teams serve the approximately 720,000 people who live in marginalized areas. The report also included an assessment of the health services in these areas in terms of the availability of medical teams, equipment and medicines in health clinics.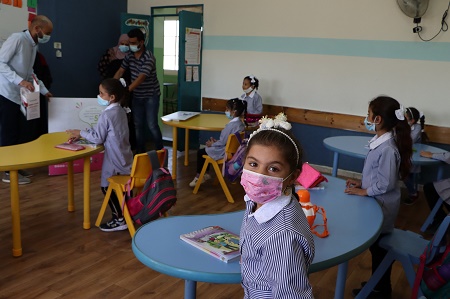 The campaign is part of MIFTAH's efforts to promote good governance and social justice through influencing fiscal policies and pushing for citizens' access to health care wherever and whenever necessary. It focuses on the premise that health care is a basic human right, guaranteed by local laws and international conventions and based on the 2017-2020 national policies agenda, which points to comprehensive quality health care for all.