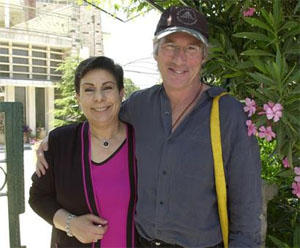 Acclaimed Hollywood film star Richard Gere visited the Palestinian occupied territories Tuesday and held meetings with Dr. Hanan Ashrawi, PLC member and Secretary General of MIFTAH, Ziad Abu Amr, Palestinian Culture Minister, and several prominent members of the Palestinian arts scene.
Gere, 54, the star of such hit films as An Officer and a Gentlemen, Pretty Woman, Runaway Bride and Chicago, was "visiting to promote peace" and "hear the voices of the people." He kindly requested that the media not cover his three-day visit to Israel and declined to talk to the press. Gere, known for his vocal political activism, has made frequent visits around the world to promote peace, conciliation and the restoration of Tibetan rights.
Dr. Ashrawi discussed the Palestinian narrative and history with the actor. Mr. Gere expressed his hope for Jerusalem to be a peaceful global city and called on artists to utilize their creativity and contribute towards peace. His informal meeting at Dr. Ashrawi's residence was light-spirited, despite the fact that Ramallah was under strict curfew.
Gere then met with several prominent members of the Palestinian arts scene, including film-maker George Khalife and George Ibrahim, whose movie theatre, the largest in Ramallah, is currently screening Gere's award-winning musical "Chicago." When questioned about Hollywood's negative depiction of Arabs and Muslims, Gere responded that he had neither starred in such movies nor even watched them. Gere was among a group of Hollywood celebrities who voiced their opposition to the US war in Iraq last winter.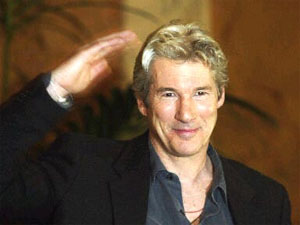 The humanitarian actor formed The Gere Foundation to support survivors of war and natural disasters, world health concerns and basic human rights. The Gere Foundation provides relief assistance in times of crisis around the world. While it works to alleviate immediate needs resulting from catastrophic events, it also aims to provide integrated programs that aid refugee and developing communities on the challenging road to long-term well being and stability.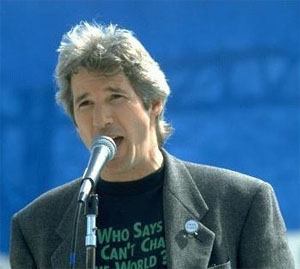 "If people lose their land, they have nothing. You lose your land -- you lose your culture, you lose self."
-- Richard Gere
Celebrities Take an Interest in the Middle East
Gere's visit follows on the heels of pop diva Whitney Houston who last week toured Israel and met with Prime Minister Ariel Sharon and ultra-nationalist Tourism Minister Benny Elon, to help promote tourism in Israel. Apparently, unlike Gere, Whitney Houston did not care to travel to the Palestinian occupied territories.
Critically acclaimed and controversial Hollywood film director Oliver Stone aims to decipher the Palestinian – Israeli conflict in his latest documentary entitled "Persona Non Grata." The documentary, which will air in the US on HBO this Thursday, follows the director's visit to the troubled Middle East in which he interviewed leaders on both sides of the conflict, including ski-masked Palestinian "freedom fighters" and a spokesman for the Islamic militant group Hamas. Stone and his film crew roamed the streets of Jerusalem, Tel Aviv and Ramallah as violence escalated during March, 2002.